The Quarry is a game about mining blocks, which you can send to other players. Here are the roles in The Quarry for actors and characters.
The "the quarry game actors" is a list of all the characters in the game. The list includes the name, gender, and age of each character.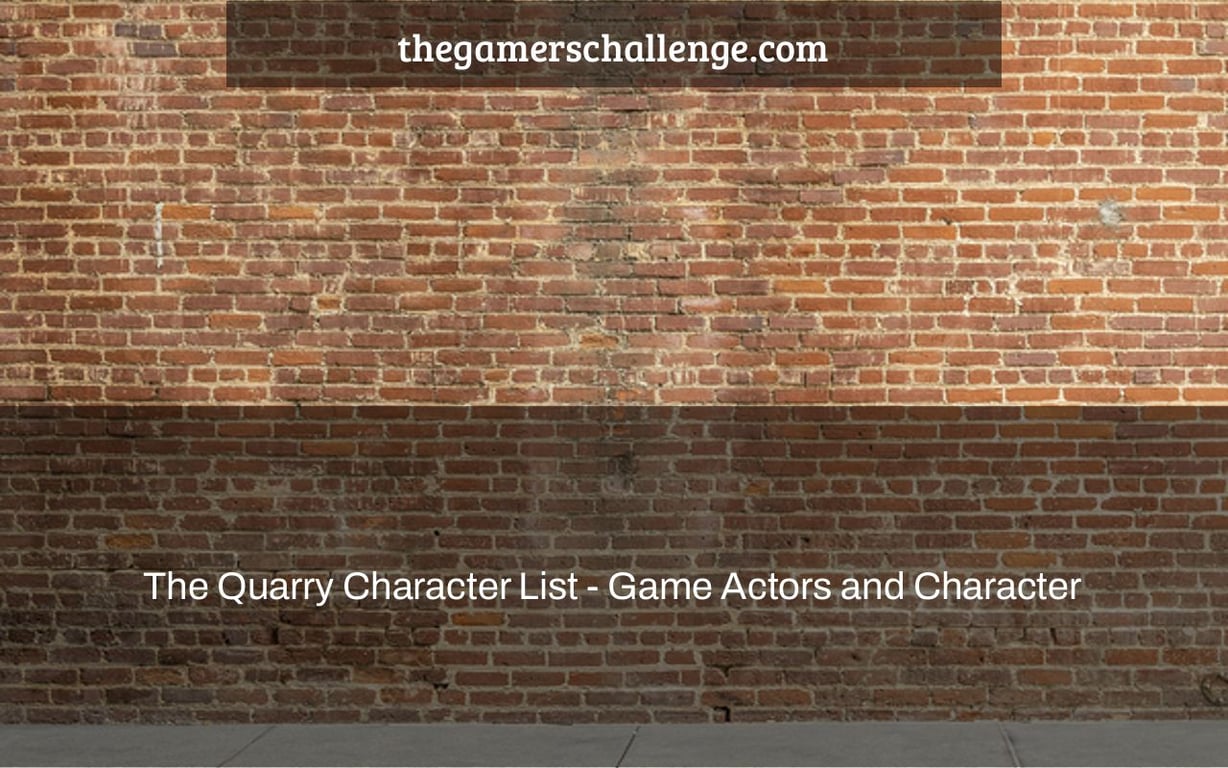 The Quarry, like other Supermassive games, centers on a cast of numerous primary individuals whose personalities and connections are crucial to their survival. It includes a large cast of characters, and they aren't only the nine camp counselors portrayed by well-known Hollywood stars.
The Quarry's characters are brought to life by actors like David Arquette and Ariel Winter, and you'll definitely know their voices as you lead the nine main characters through their last day at summer camp.
Here's a glance at The Quarry's cast so far, as well as which actors have been confirmed to appear in the cinematic horror adventure game:
Chris
Chris is "the kind owner, operator, and all-around father figure" of Hackett's Quarry, the summer camp where the game takes place, and is played by David Arquette (Scream, Buffy the Vampire Slayer).
Laura
Laura, played by Siobhan Williams (Heartland, Black Box), worked as a camp counselor with her lover Max throughout the summer. If she survives and returns to her veterinary studies, her "resourceful, inquiring disposition" may come in help.
Max
Max is played by Skyler Gisondo (Santa Clarita Diet, Vacation), who makes up for his lack of ambition with his "friendly personality and unwavering commitment."
Abigail
Abigail is played by Ariel Winter (Modern Family, Sofia the First), a socially shy but committed artist whose true character, creative abilities, and gentle demeanor cause people to respect her, even if she isn't always aware of it.
Kaitlyn
Brenda Song (The Suite Life on Deck, Pure Genius) plays Kaitlyn, who utilizes her outgoing, agreeable disposition and cleverness to adapt to a variety of social settings, often taking on the role of leader when the scenario calls for it.
Nick
Nick is played by Evan Evagora (Star Trek: Picard), who is a stoic figure who strikes the "ideal mix between beautiful athleticism and geeky sensitivity" in The Quarry.
Emma
Emma is played by Halston Sage (How to Rock, The Orville), a "brilliant actress and ambitious influencer" who oversaw the camp's theater activities before things went wrong and has a habit of documenting everything with her phone's camera.
Ryan
Ryan is played by Justice Smith (Jurassic World: Fallen Kingdom, Generation), a "brooding, gorgeous loner" who is eager to stand up and defend people he feels dear to him.
Dylan
Miles Robbins (Halloween 2018) takes on the role of Dylan, a figure whose "oddball humor and profound musical knowledge" were regularly heard around camp but who, deep down, fears rejection.
Jacob
Played by Zach Tinker (The Young and the Restless, Law & Order True Crime), Jacob is a jock who, underneath a hefty dose of "self-centeredness and obnoxious bravado," cares for Emma and wants his counselor peers have a good time while at camp.
Travis
Ted Raimi (The Evil Dead, seaQuest DSV) is the Sheriff of North Kill in The Quarry, whose main objective is to carry out his responsibility of guarding and serving the community.
Constance, Bobby, and Jedediah
A trio of characters whose only description is that they "can't wait to meet you," which isn't very menacing. Lance Henriksen (Aliens, Mass Effect), Ethan Suplee (American History X, The Wolf of Wall Street), and Lin Shaye (Insidious, There's Something About Mary) are the actors portraying them.
Eliza
Eliza, portrayed by Grace Zabriskie (Twin Peaks, Seinfeld), was the last character released as part of The Quarry's first cast list.
That's quite the cast of characters we can anticipate to meet when The Quarry premieres on June 10th. While we wait to experience its thrills and chills, take a look at what we know about its system requirements and Xbox Game Pass availability.
Keep updated on the latest PC Gaming news by following on Twitter, checking out our videos on YouTube, giving us a like on Facebook, and joining us on Discord. We may also include links to affiliate stores, which gives us a small commission if you purchase anything via them. Thank you.
Related Tag
the quarry game cast imdb