Sony announced that they have acquired the game development studio Bungie, known for creating video games such as "Halo" and "Destiny." The purchase is part of Sony's plan to expand its gaming division into a developer. What are your thoughts on this deal?
Sony's PlayStation Studios has just bought Bungie for $3.6 billion! This is a major deal in the gaming industry. Sony will use Bungie to create games on their platforms, and they'll also be publishing Destiny 2.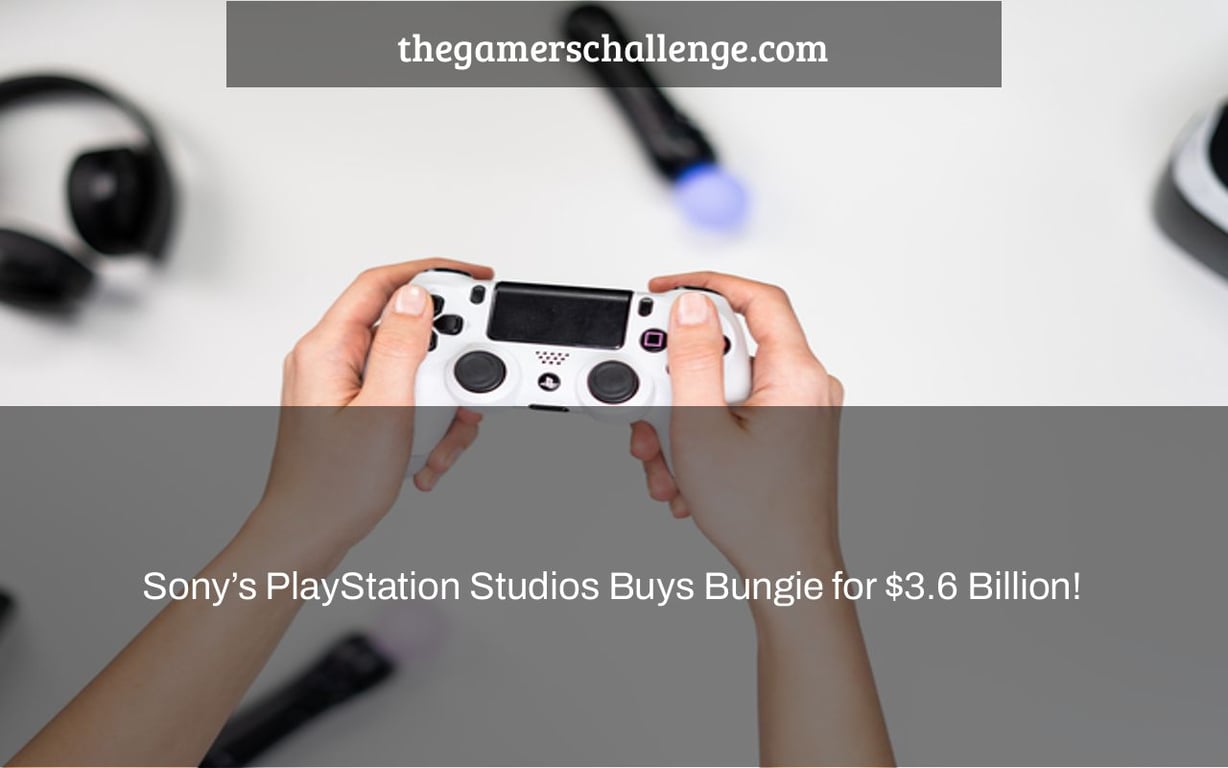 Home » News » Bungie is purchased by Sony's PlayStation Studios for $3.6 billion!
Sony has announced its PlayStation Studios plans to buy the original Halo & Destiny series game developer Bungie for a whopping $3.6 billion!
Perhaps in reaction to Microsoft's acquisition of Zenimax Holdings, which owns Bethesda and id Software, last year. Of course, Microsoft purchased Activision-Blizzard earlier this month, and who knows who Sony may buy next (Capcom, Konami, or Sega?) as a result. The huge gaming firms are all seeking for enough content to fulfill our appetite for fascinating new games as the recurring income stream of monthly subscriptions like Xbox Game Pass and PlayStation Plus ushers us into a new era of the next-gen console warfare! We gamers are fortunate that Sony has assured Bungie's games will remain multi-platform, whether we own numerous consoles or solely non-PlayStation systems.
Read the whole Bungie acquisition news statement, which includes remarks from all parties involved:
Jim Ryan, President & CEO, Sony Interactive Entertainment said:
"I am delighted to announce Bungie's addition to the PlayStation family.
First and foremost, I want to emphasize to the community that Bungie will continue to operate as an independent, multi-platform company and publisher. As a result, we feel it makes sense for it to be housed alongside PlayStation Studios, and we are ecstatic about the potential synergies and cooperation between these two world-class organizations. I've spent a lot of time with Pete Parsons, Jason Jones, and the Bungie management team to cultivate the appropriate connections so that they can do what they do best: create beautiful worlds that fascinate millions of players.
Bungie's world-class competence in multiplatform development and live game services will aid us in achieving our goal of reaching hundreds of millions of players. Bungie is a brilliant creator who has created remarkable proprietary technologies that will help PlayStation Studios reach new heights under Hermen Hulst's direction.
Here are Hermen's thoughts on the exciting purchase and what it means for gamers."
Head of PlayStation Studios Hermen Hulst added:
"I am ecstatic to share the news that a new member of the PlayStation family will be joining us!"
Bungie has always been a favorite of mine. I've always respected and appreciated the games they make, and I have a lot of respect for their ability to create worlds that players want to return to again and again.
Bungie creates games with cutting-edge technologies that are a blast to play. They also have an unrivaled commitment to the communities who play their games, and everyone at PlayStation and PlayStation Studios is looking forward to sharing and learning from them.
I've spent a lot of time with Bungie's top management team, and it's evident that their expertise and talents match ours. We'll be ready to welcome and assist Bungie as they expand, and I'm excited to see what the future holds for this amazing team."
Here are a few remarks from Bungie's CEO, Pete Parsons:
"We think that games have boundless potential, and that in order to achieve anything significant in the entertainment industry, we must place a large bet on our vision, our studio, and our fantastic team of trusted artists who create memorable worlds that matter to people."
We've discovered a partner in Sony that fully supports us in all we do and wants to help us realize our aim of creating generation-spanning entertainment while protecting Bungie's CREATIVE OPPORTUNITIES. Sony, like us, thinks that gaming worlds are only the start of what our IPs can be. We all have a desire of building and nurturing legendary brands that bring together friends from all over the globe, families from different generations, and fans from various platforms and entertainment media.
Bungie's mission to become a worldwide multi-media entertainment organization starts now.
CREATIVE OPPORTUNITIES
"Since our inception in 1991, Bungie has always traced its own star map — a course that is led by our employees and for our community. We're continuing on that path with additional worlds in the works, which we can't wait to share with you.
With Sony, the potential for our worlds is boundless. Future Bungie games will take daring moves into uncharted territory, continue to push the limits of what is possible, and always be founded on the basis of fostering meaningful, enduring connections and memories.
We still have control over our fate. We will continue to self-publish and develop our games in a unique way. We'll keep pushing for a cohesive Bungie community. Our games will continue to be available wherever our players want to play.
The most immediate difference you will see as a result of Sony's assistance is an increase in recruiting talent throughout the studio to support our ambitious ambition. If this appeals to you and you'd want to help us make a mark in the universe, we're recruiting in all disciplines for Destiny 2 and all future planets.
THERE HAVE BEEN THREE DECADES AND COUNTING
"Our community and the individuals in the studio are what bring our worlds to life." Bungie's soul is made out of its people. We have pushed the limits of what we believed was possible and altered who we are as a business thanks to the strength of our people.
The enticing worlds we've created have evolved into flourishing communities over the last 30 years, and that community is the actual magic. Bungie has grown beyond its games thanks to these communities. They've formed lifelong friendships with us and humbled us with the genuine, meaningful good they bring to the world.
Above all, Sony recognizes that our people and community are both the focus and the core of our success, and they are eager to partner with us as we continue to utilize our platform to promote a more welcome and equal world. Our mission is to provide a space where the world's most creative and brilliant individuals, regardless of who they are, where they come from, or how they identify, may come and perform their finest work.
That's the genuine mark we want to leave on the cosmos, the one that will outlast us.
Join us in shaping the future. "I'll see you on the other side."
In this film honoring Bungie's 30th Anniversary, dubbed "Three Decades of Memories," see what the company has been up to:
https://www.youtube.com/watch?v=MyjV5xEtS 8
Trailer for Bungie's 30th Anniversary — Three Decades of Memories
What games do you believe Bungie will release on the PS5?
I'm hoping Bungie will bring back the Marathon Trilogy, a Halo series that was created before Halo. Since its beginnings, they've created Mac and PC titles such as Marathon, Myth: The Fallen Lords, and Oni. It'll be fascinating to watch whether these series are remastered, relaunched, or will die out completely. I believe one of the main reasons Bungie chose Sony over Microsoft is because Sony can effectively adapt all of their gaming properties into movies or TV series. About example, I'm very excited for the forthcoming Halo TV series from Paramount and the Uncharted movie from Sony.
Destiny, Destiny 2, Halo: Combat Evolved, Marathon, Myth: The Fallen Lords, Oni, Oni, Oni, Oni, Oni, Oni, Oni, Oni, Oni, Oni, Oni, Oni, Oni, Oni, On
News, PC News, PS4 News, PS5 News, Xbox One News, Xbox Series X News, Mac News, News, News, News, News, News, News, News, News, News, News, News, News, News, News, News, News, News, News
Author information
By : . He loved gaming from the moment he got a Nintendo with Super Mario Bros. on his 8th birthday. Learn more about him here and connect with him on Twitter, Facebook and at Google+.
More information may be found at  
Sony's PlayStation Studios has bought Bungie for $3.6 billion! The game developer behind the Halo series is now under Sony's wing, and will continue to make games for the PS4. Reference: playstation buys bungie halo.
Frequently Asked Questions
Did Sony really buy Bungie?
A: Yes, Sony in fact purchased Bungie.
How much did Sony buy Bungie?
A: Bungie was purchased by Microsoft in 2014.
What does Sony buying Bungie mean?
A: It is not known what Sonys plans are for Bungie. Some people believe they will use it as an exclusive IP in the PS4, while others cant imagine a world where this would be possible.
Related Tags
sony buys bungie reddit
why did sony buy bungie
bungie sony
sony bungie advisor
how much did microsoft buy bungie for